Finally a training program to help you leverage webinars to grow your list, increase your revenue and become an industry expert. 
Imagine having all the resources at your fingertips to WOW your audience and convert them into paying clients.
Do you want to declare yourself as the go-to leader in your niche by offering exceptional value to your audience?
Are you tired of spending hours trying to stand out on social media?
Are you ready to host your next webinar like a BOSS and increase your revenue substantially?
You invest your time and money in many aspects of your business. Once you successfully hold your first webinar, you'll immediately understand its value. With Proactive Webinars, anyone can host a webinar that earns more trust, forms better relationships, and gets higher returns.
There is no reason to reinvent the wheel. This step-by-step training program will give you all the knowledge and tools to set up and host profitable webinars right away. Register now here and gain access to 10 easy to follow training modules, done-for-you templates, worksheets and checklists. You invest your time and money in many aspects of your business,.
Join Today and Gain Instant Access to 10 Video Training Modules
What is a Webinar?
Types of webinars that you can host
What you can deliver to your audience
Why Host Webinars?
How webinars can grow your business and increase revenue
How to become an industry expert
What Does Your Audience Want?
Discover what you audience wants to learn
What is the best way to deliver your information?
Planning Your Webinar
Steps you need to take to host your first webinar
Overview of the techonolgy that you will need
Outsourcing
What is outsourcing?
What do you need to outsource?
Where do you find expert help? 
Building Your Funnel
What is a funnel?
Creating your registation page
Setting up your list and writing your email series
Your Presentation
Outline and prepare your presentation 
Finalize your presentation so you can deliver a professional webinar to your audience.
Guest Speakers
Benefits of having guest speakers
How to find and select complementary guest speakers
Promo Time
How to promote your webinar and get results
Creative ways to take your marketing to the next level
After the Webinar
Steps to take when your webinar is over and follow up with your audience
How to repurpose and monetize your webinar
Plus Done-for-You Templates
Plus you'll receive access to done-for-you templates and checklists to make putting together your webinar a breeze.
Webinar Checklist and Outsourcing Guide
Webinar Outline Guide and Worksheet
Webinar Schedule Template
Day of Webinar Checklist
Marketing Funnel Planning Worksheet
Registration Opt-in Page Template
Thank You Page Template
Guest Speaker Brainstorming Worksheet
Webinar Promotional Email Templates
Reminder and Follow Up Email Templates
Affiliate Recruitment Email Template
Speaker Release Form
Social Media Post Templates
Webinar Powerpoint Template
Technology and Resource Guide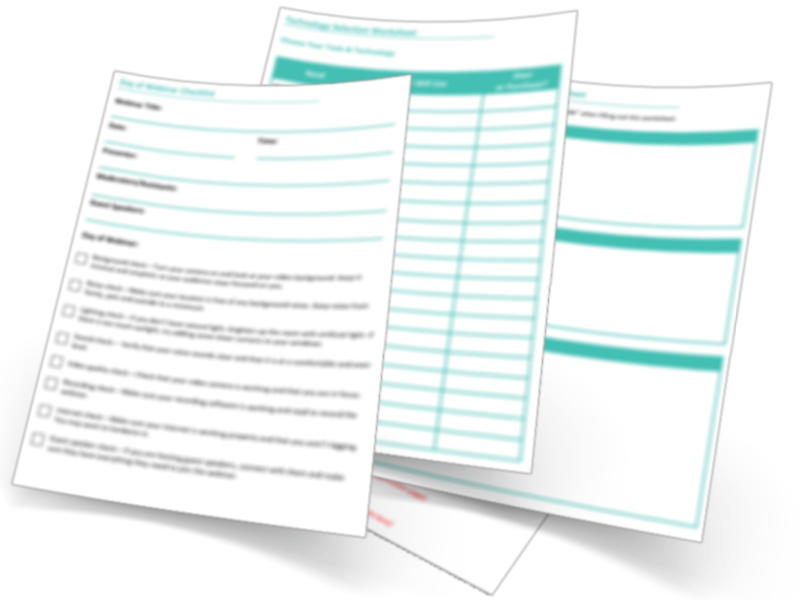 Why Host Webinars?
Webinars are an excellent way to communicate with your audience and convey a sense of immediacy and involvement. They allow a slew of people to see and hear you as if you were in the same room as them and create a high degree of emotional and intellectual focused engagement.
Reach people all over the world
From trust and build relationships with your audience
Position yourself as an expert in your niche
Meet Danielle
Danielle has been an Online Business Manager for almost 10 years and one of her favorite things to do is help her clients with their webinars and virtual events. Over the years she's discovered what works and what doesn't. She's developed tried and true systems that she uses in both her business and her clients and she can't wait to share them with you. 
Danielle's knowledge extends much further than just webinars. She helps her clients turn clicks into cash by assisting with their email marketing, sales funnels, launches, affiliate marketing, web design and more. She even helps run the largest Virtual Assistant Network, VAnetworking. 
When she's not running her clients' businesses from behind her screen she's enjoying the outdoors and traveling. 
FREE "Day of Webinar" Fillable Checklist
Use this detailed checklist to make your webinar day run smoothly.